The Grigorovich DG-55 or E-2 was designed in 1935 at the MAI institute in Moscow as a long range aircraft. The design was heavily influenced by the DH-88 as can be seen from its outline.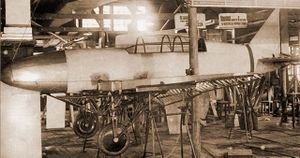 Construction was of wood and two British Cirrus Hermes engines delivering 120hp each were used. The plane had a top speed of 296km/h and a range of 2.200km. It was a smaller than the DH-88 with a span of 11m and a length of 7.9m.
The DG-55 was nicknamed Kometa after the DH-88 but was also referred to as the "Girls Plane" as eight female student designers worked on the aircraft.
One prototype was built. The aircraft was used as a fast courier for some years.