In 1949 the RAF converted a Spitfire Mk-XIV to celebrate the victory in the London-Melbourne race 15 years earlier of the Comet "Grosvenour House". The Spitfire was painted bright red and received the markings of Grosvenour House.
Originally the idea had been to use the real Grosvenour House for the flight but the aircraft had decayed to much to be of any use on a short notice. A lengthy and costly restoration would have been needed to get the De Havilland Comet into the air again. So instead a Spitfire was used.
The aviation authorities gave permission to use the registration G-ACSS for the flight.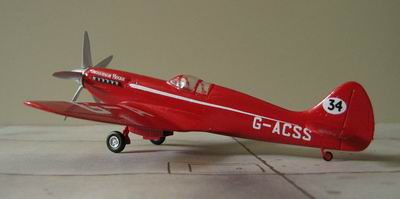 The aircraft left Britain on the 20th October 1949. It was planned to retrace the route of the original Grosvenour House exactly. However the aircraft was lost over the Mediterranean. Despite a search operation by the Royal Navy the wreck was never found. The pilot was lost.